Since our official opening in early August '14 by which time the Shed's development was practically complete, the blokes have been working at reducing the backlog of projects that have come our way from Sunbury's citizens.
Some of the current projects are:-
The manufacture of six sets of children's tables & chairs by Garry P,
Refurbishment of a couple of wagon wheels by Norm R and Mike N,
The fabrication of some native bee nesting boxes by Ted C, Outdoor picnic tables by Norm N,
While Peter W and Peter M along with a bunch of other Sheddies build a few large display relocatable pinboards,
and Lew G builds three ornamental garden wheelbarrows.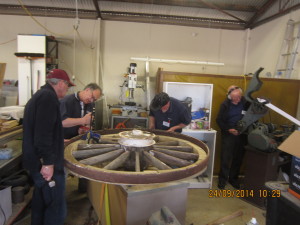 The Shed's development continues apace with Kevin D developing a plant potting area and greenhouse in a corner of Barry's garden while Barry produces bountiful fresh vegies from his garden for fellow Sheddies as well as our Friday lunches.
Rod N and Peter M are gradually improving the front BBQ lawn area to provide a quiet area for Sheddies away from the bustle of the workshop.
Kevin S and Rod J continue to advance the cause of safety when blokes are operating the Shed's various items of machinery.
They will also be running more "safety awareness" sessions to keep the "safety" message in the forefront of our minds.
With the onset of warmer weather I hope to see a lot more Sheddies enjoying our facilities, so come along and enjoy the company of our happy team!
Happy birthday Lew!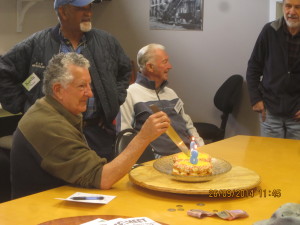 Bye for now, Dieter.